"Thoughts"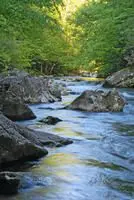 Amidst the worldly comings and goings, observe how endings become beginnings.
~ Tao Te Ching

Knowledge is a treasure, but practice is the key to it.
~ Lao Tzu

Life is change.... Growth is optional.... Choose wisely....
~ Karen Kaiser Clark

Life can only be understood backwards: but must be lived forwards.
~ Soren Kierkegaard

We have to be careful to get out of an experience only the wisdom that is in it and stop there, lest we be like the cat that sits on a hot stove. She will never sit on a hot stove again, and that is well, but also she will never sit on a cold stove anymore.
~ Mark Twain

The capacity to learn is a gift; the ability to learn is a skill; the willingness to learn is a choice.
~ Author Unknown

If you want to know your past - look into your present conditions. If you want to know your future - look into your present actions.
~ Buddhist Saying

What we think, we become.
~ Buddha

If you don't like something, change it. If you can't change it, change your attitude.
~Maya Angelou

We are our choices.
~ Jean Paul Sartre

Happiness is not something ready-made.
It comes from your actions.
~ Dalai Lama
The obstacle is the path.
~ Zen Proverb

Nothing has a stronger influence on their children than the unlived lives of their parents.
~ Carl Jung

If the only tool you have is a hammer, you tend to treat everything as if it were a nail.
~ Abraham Maslow

When we are no longer able to change a situation - We are challenged to change ourselves.
~ Viktor E. Frankl

If you think you are too small to make a difference, try sleeping in a closed room with a mosquito.
~ African Proverb

We do not see things as they are; we see them as we are.
~ Talmud

People forget what you say, they forget what you did, but they never forget how you made them feel.
~ Maya Angelou

When the student is ready, the master appears.
~ Buddhist Proverb

"If you don't know where you are going, you will probably end up somewhere else"
~ Laurence J. Peter "The Peter Principle"

"Worrying is like a rocking chair; It gives you something to do, but it doesn't get you anywhere"
~ Author Unknown

Courage is resistance to fear, mastery of fear, not absence of fear.
~ Mark Twain

For the meaning of life differs from man to man, from day to day, and from hour to hour. What matters therefore is not the meaning of life in general, but rather, the specific meaning of a person's life at a given moment.
~ Viktor E. Frankl
For any information regarding therapy with Deborah Lakeman, please don't hesitate to call 818-980-8870 .